A multisensorial concert – Friday, 10th April 2020, 8 p.m.
Elena Kakaliagou, french horn and voice . Caroline Tallone, hurdy gurdy . Utku Tavil, drums
Evi Filippou, vibraphone . Arne Braun, guitar . Sofia Eftychidou, double bass . Daniel Schroeteler, drums – Fabio Dondero and Dominik Breider (Incense burning): n.a.
PANDA Theater in der Kulturbrauerei, Knaackstr. 97, 10435 Berlin
Evi Filippou (GR, 1993) started taking percussion lessons at the age of 7. In 2009 she gave her first recitals in Athens with a scholarship from the Friends of Music. Two years later, she graduated with a first prize and moved to Berlin to start her Bachelor studies at the Hochschule für Musik Hanns Eisler. She performed a.o. with the Bolshoi Ballet Orchestra, Cyprus Symphony Orchestra and the Orchestra of Konzerthaus Berlin. Evi is a founding member of the Opera Lab Berlin, an independent ensemble that specializes in music theater, with which she premiered a piece by Salva- tore Sciarrino in the Staatsoper Berlin. In 2015 she played a solo concert in the series Welcome young Artists! in Athens. Together with saxophonist Hayden Chisholm she founded a duo, playing contemporary as well as original compositions. They perform around the world and they just released their Duo Album Blowslap. Evi also plays in many pop, jazz and theater projects.
Arne Braun, born 1995 in Jakobstad, Finland, is a Finnish musician with the electric guitar as his main instrument. He lives in Berlin where he is active on the scene in various bands and projects, playing both in Berlin and other cities around Germany. Besides Germany and Finland, where he is regularly performing, he has also played in Iceland, France, Sweden, Italy and The Netherlands. Some notable festivals he has performed at include the Reykjavik Jazz Festival, Umbria Jazz Festival and Pori Jazz Festival, Maerz Musik. He recently graduated from the Jazz Institute Berlin (UdK/Hanns Eisler) where he during his studies recieved lessons from Greg Cohen, Kurt Rosenwinkel, Kalle Kalima, Chris Dahlgren, Jim Black, John Hollenbeck, Marc Muellbauer, and more. In the last five years he has had the opportunity to play and perform with some of his favourite musicians including Morgan Ågren, Jim Black, Pat Mastelotto, Greg Cohen, and many more.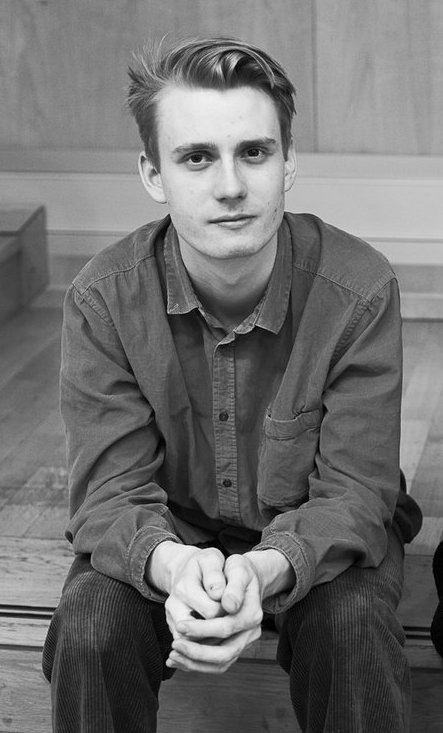 Sofia Eftychidou (21.09.1994) is a greek bass player living in Cologne, Germany. She was born in Volos, (Greece) where she took her first musical steps starting out with the piano at age 10. Later on at age 14, she picked up the electric bass and a few years later she started playing the double bass. She first studied classical music under the guidance of Vassilis Papavassiliou in Athens and soon started playing in orchestras and ensembles. When she turned 18 she moved to Berlin, where she decided she wanted to play jazz and started taking lessons with bassist Marc Muellbauer. After three years, she moved to Cologne to study at the "Hochschule für Musik und Tanz Köln" under the guidance of Dieter Manderscheid and Jonas Burgwinkel. In addition to her trio "Bräumer/ Klewer/ Eftychidou", she plays in different projects which has led her to play in numerous european venues.
Daniel Schröteler (born August 17, 1974 in Düren) is a German jazz drummer. Schröteler, who was given a first drum at the age of five, studied jazz at the Hogeschool voor de Kunsten (Arnhem University of Arts) from 1990 to 1997. From 2000 he taught drums and rhythm at the Johannes Gutenberg University in Mainz, from 2002 to 2003 he also taught in Arnhem. Since 2003 he works as a freelance musician. Schröteler is a member of various bands, such as the Christian-Weidner-Trio, the Henning-Berg-Quartet, the Werner-Neumann-Quartet, the Matthias-Haus-Ensembles and the groups Supdiver (with Niels Klein, Frank Wingold and Dietmar Fuhr), TITZ (by Christoph Titz) and Talking Jazz (with Till Brönner, Dieter Ilg, Charlie Mariano and Martin Sasse). In addition, he also worked in a duo with Antonis Anissegos, with Hayden Chisholm's The Inflictor and with Marla Glen. With Philipp Gropper, Philip Zoubek and Petter Eldh he formed the band Tau. Since 2016 he belongs to Tobias Christl's poachers. He has appeared at jazz festivals in Germany (including the Leverkusen Jazz Festival and Moers Festival), in Maastricht, Bilbao and Benoni (South Africa) and toured the Netherlands, Spain and Africa on behalf of the Goethe-Institut.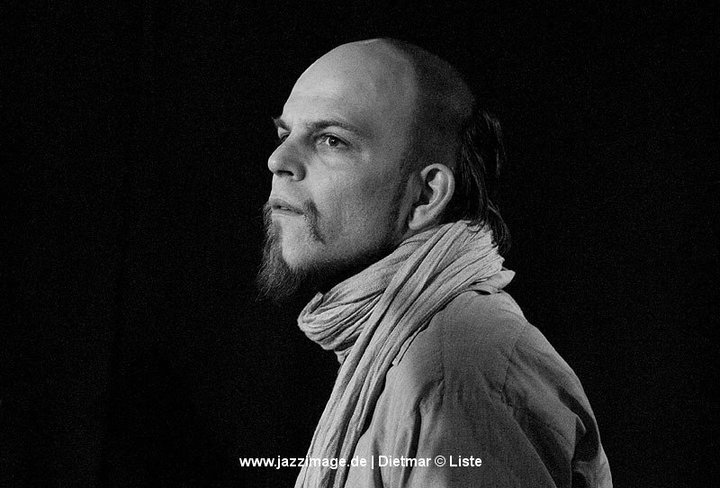 Elena Margarita Kakaliagou is a greek-austrian french horn player and performer, currently based in Berlin. Starting out with piano lessons, she moved on to the French horn at the age of 18. After completing her studies in Athens/GR with Vangelis Skouras, she moved on to KUG-Graz/AT to continue her education under the teaching of Hector McDonald. Instructed by Erja Joukamo-Ampuja, Elena obtained her Master's degree from Sibelius Academy/FI in 2010 in French horn and chamber music. During her career, Elena has received scholarships from Klangforum, Impuls Academy and Ensemble Modern with teachers like Mike Svoboda and Bill Formann.
Elena's field of specialization is free improvised and contemporary music, next to classic chamber music. She has performed premiers with ensembles like Ensemble Linea, Schallfeld and KNM Berlin in Festivals like Ultraschall Berlin/DE, Maerz Music/DE, Randspiele/DE, Musica Nova/FI, Lá-bas/FI, Musica/FR, Warsaw Autumn/PL, New Adits/AT, Ultima/NY, Kaleidophon/AT, newadits/AT, Tour de Babel/FR, Sound Live Tokyo/JA ao. She has worked with individual artists as Riikka Innanen, Phill Niblock, James Andean, Ingrid Schmoliner, Katharina Klement, CC Hennix, Robin Hayward, Simon Martin, Matias Guerra, Thomas Noll, to name but a few. Elena is the co-founder of the Helsinki-based 'Rank Ensemble', the Austrian trio 'PARA', the Duo Kakaliagou/Schmoliner, the Duo Guerra/Kakaliagou and is a member of Zinc & Copper, Zeitkratzer and the ensemble of CC Hennix.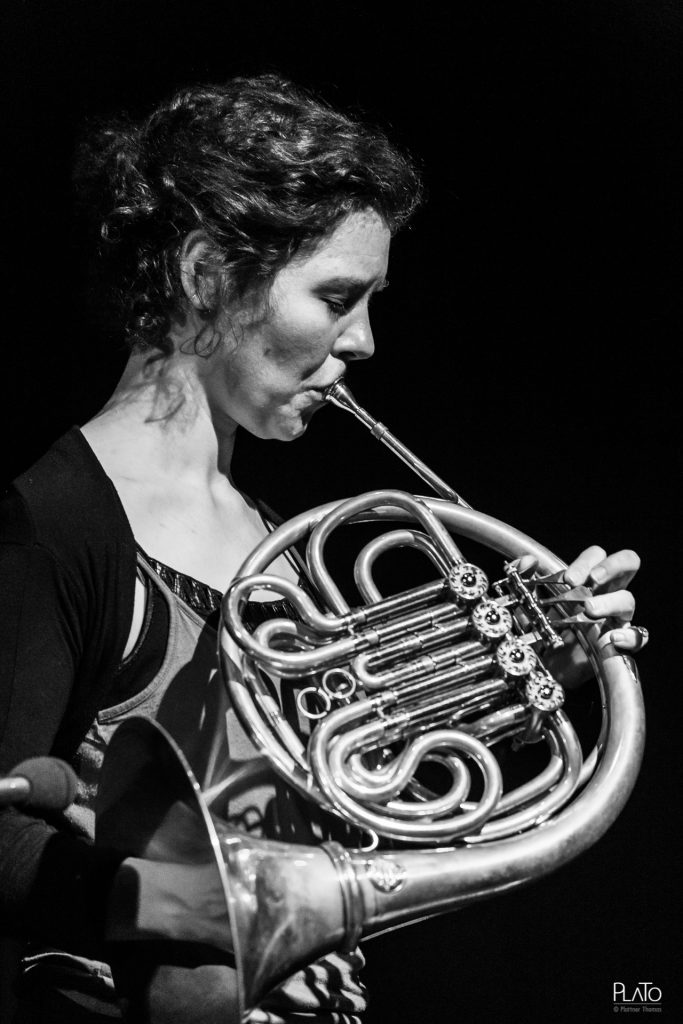 Caroline Cecilia Tallone /K Lì,  hurdy-gurdy, violin, melodeon, amplified objects .Born in Switzerland, she lives in Berlin and works as musician and luthier. Used to live in Cremona and Milano, collaborated and played all over Europe with several italian ensembles, orchestras and singer-songwriters. With a background of classical, antique and folk music, she is now into experimental, electroacoustic and improvised music. She has played in many electronic impro noise festivals in Milan, Oslo, Berlin and Leipzig. She has participated in artistic residencies in Germany and Switzerland and she collaborates with many musicians and performers active in Berlin and international scene.