A Multisensory Concert – 22. August 2016, 11:00 p.m. Hayden Chisholm: sax, sruti box, voice – Thimios Atzakas, oud – Katerina Fotinaki: voice, guitar, loops – Fabio Dondero: Incense burning  – Boswellia Sacra (Oman), Juniperus communis (Germany) and Elemi (Philippines) – Arches of Aghios Dimitrios, Agios Lavrentios, Greece, during Music Village Festival – http://www.music-village.gr/en/concerts-events
The 8th concerto of the series The Incense of Music was held in the beautiful Agios Lavrentios, a village on the green and beautiful mountains of Pilio during it's annual Music Village festival in the second half of August. A trio of great musicians, Katerina Fotinaki, Thimios Atzakas and Hayden Chisholm, offered a beautiful musical experience during a warm Summer night. The incense accompanied the show. What do you want more?
Ah, also Greek television was there, Kontrapounto, channel ERT 3. h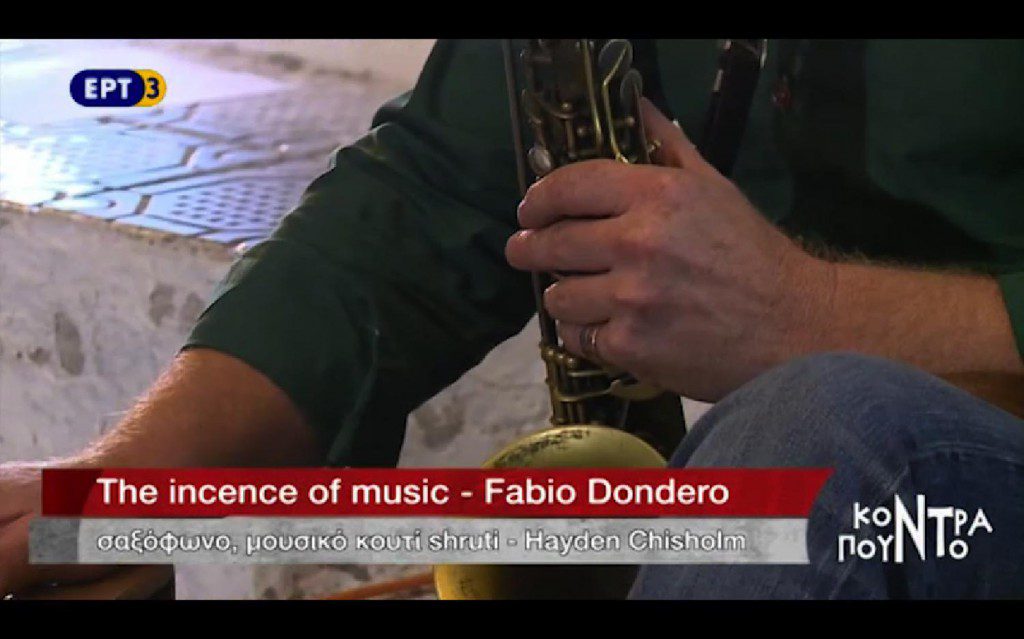 Incense is used for a variety of purposes, including ceremonies in all major religions, and as a means to support spiritual practices, aromatherapy, meditation as well as for simple pleasure. Fragrances appeal on the most neglected sense of modern times: the olfactory. Fragrances affect the human spirit, influence its perception, open new experiences. These qualities suggest to combine this ancient art, present in any culture, with music and visual arts in a synaesthetic project between seeing, listening and smelling, enhancing the sensory experience created from the convergence of images, scents and sounds in the brain.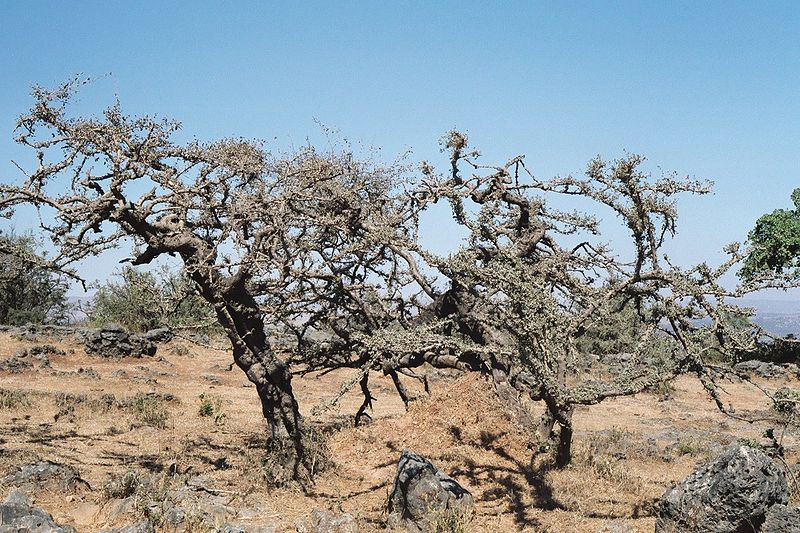 Boswellia sacra (commonly known as frankincense or olibanum-tree) is a tree in the Burseraceae family, from which frankincense,  a resinous dried sap, is harvested. It is native to the Arabian Peninsula (Oman, Yemen) , and northeastern Africa (Somalia). This species of Boswellia is a small deciduous tree, which reaches a height of 2 to 8 m (6 ft 7 in to 26 ft 3 in), with one or more trunks, tolerates the most critical situations and is often on rocky slopes and ravines, up to an altitude of 1,200 m, mostly in calcarreous soil. Frankincense is mentioned in the as one of the three types of gifts the wise men  gave to the young baby Jesus of Nazareth  and  has been traded on the Arabian Peninsula and in North Africa for more than 5000 years. It is often used as an overall health tonic, as it offers benefits to all of the body's systems. It promotes relaxation by helping to open airways and is connected to feelings of mental tranquility, making it an excellent fragrance to use for meditation and spiritual activities.
Canarium is a genus of about 100 species of tropical and subtropical trees, in the family Burseraceae. They grow naturally across tropical Africa, south and southeast Asia, Indochina, Malesia, Australia and western Pacific Islands; including from southern Nigeria east to Madagascar, Mauritius, Sri Lanka and India; from Burma, Malaysia and Thailand through the Malay Peninsula and Vietnam to south China, Taiwan and the Philippines; through Borneo, Indonesia, Timor and New Guinea, through to the Solomon Islands, New Caledonia, Fiji, Samoa, Tonga and Palau. They grow up to large evergreen trees of 40–50 m (130–160 ft) tall, and have alternately arranged, pinnate leaves. Elemi resin is a pale yellow substance, of honey-like consistency. Aromatic elemi oil is steam distilled from the resin. It is a fragrant resin with a sharp pine and lemon-like scent. One of the resin components is called amyrin. Elemi resin is chiefly used commercially in varnishes and lacquers, and certain printing inks. It is used as a herbal medicine to treat bronchitis, catarrh, extreme coughing, mature skin, scars, stress, and wounds. The constituents include phellandrene, limonene, elemol, elemicin, terpineol, carvone, and terpinolene. "The name Elemi is derived from an Arabic phrase meaning 'above and below', an abbreviation of 'As above, so below' and this tells us something about its action on the emotional and spiritual planes."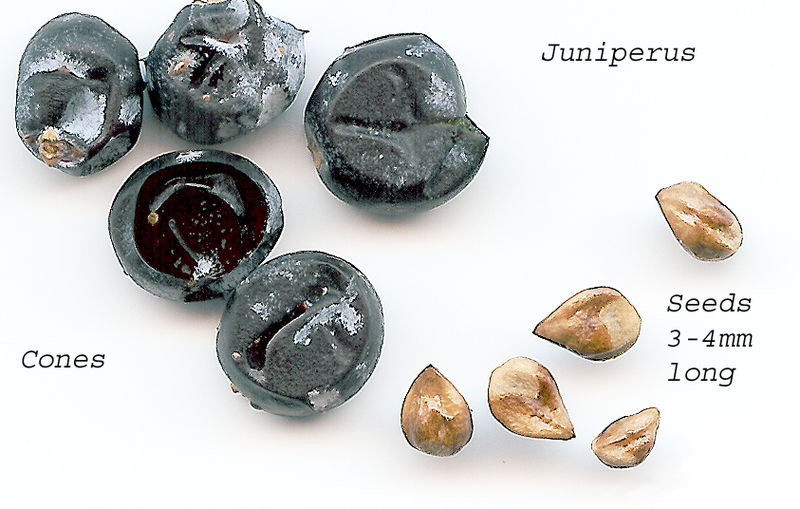 Juniperus communis is a species in the genus Juniperus, in the family Cupressaceae. It has the largest range of any woody plant, throughout the cool temperate Northern Hemisphere from the Arctic south in mountains to around 30°N latitude in North America, Europe and Asia. Juniperus communis is a shrub or small coniferous evergreen tree, very variable and often a low spreading shrub, but occasionally reaching 10 m tall. It has needle-like green leaves in whorls of three, is dioecious, with male and female cones on separate plants, which are wind pollinated. The seed cones are berry-like, green ripening in 18 months to purple-black with a blue waxy coating; they are spherical, 4–12 mm diameter. The seeds are dispersed when birds eat the cones, digesting the fleshy scales and passing the hard seeds in their droppings. Juniperus communis' wood is valued for its long lasting and pleasant aroma, very decorative natural structure of wood (growth rings) as well as good physical properties of wood due to slow growth rate of juniper and resulting dense and strong wood. According to the old tradition, on Easter Monday Kashubian (Northern Poland) boys chase girls whipping their legs gently with juniper twigs. This is to bring good fortune in love to the chased girls. Its astringent blue-black seed cones, commonly known as "juniper berries", are too bitter to eat raw and are usually sold dried and used to flavour meats, sauces, and stuffings. The cones are used to flavour certain beers and gin (the word "gin" derives from an Old French word meaning "juniper"). Traditionally Juniper berries have long been used as medicine by many cultures including the Navajo people due to its antiseptic and healing properties. In Germany juniper was called the German Sandarac and used as an incense fragrance, similarly in many other parts of the world.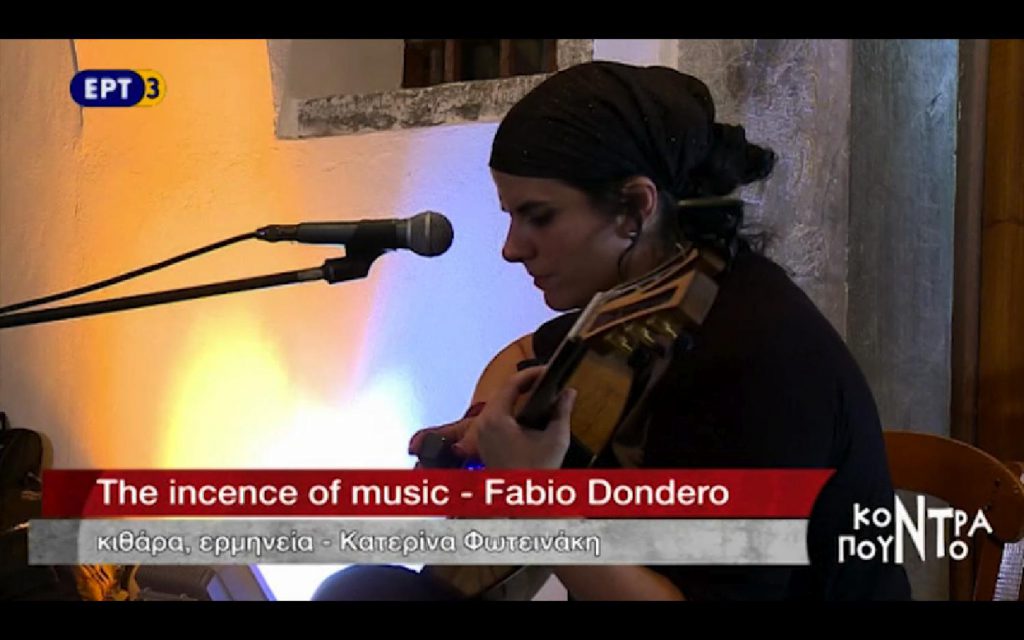 Katerina Fotinaki (GR, 1979) studied classical literature at the University of Athens and vocal technique at the Institute of Vocal Arts, with baryton Spyros Sakkas. She is the artistic director of many projects in Greece and received many prizes in composition contests. She moved to Paris in 2006, invited by the composer Angelique Ionatos and creates 3 different shows with her as well as a CD/DVD of their duet. She was a resident of "Cité des Arts" for many years. In 2011 she wins the 1st prize for the National Songwriting Contest in Athens, and begins her solo discographic career with the disc Tzitzikia (Accords Croisés/Harmonia Mundi) that was received with great enthusiasm by the French press (a fff-valuation of Télérama Music Magazine, 4th best disc of the year 2014 according to Le Monde). In addition to Greek music and poetry, Katerina Fotinaki studied contemporary music with composer Bernard Cavanna at the Gennevilliers Conservatory. Since 2014 she is teaching at the National Theater of Northern Greece.
https://fr.wikipedia.org/wiki/Katerina_Fotinaki
Hayden Chisholm (born 1975) is a New Zealand saxophonist and composer. After studying in Cologne with a DAAD scholarship he continued his music studies in Japan in India. In 1995 he developed a radical new microtonal system he termed "split scales" for saxophone which he revealed on his debut solo CD "Circe". Since then  his compositions have been recorded by BBC and WDR radios and he has toured and recorded extensively  with the likes of Root70, WDR Big Band, Musikfabrik Ensemble, and David Sylvian. He has created music for several Rebecca Horn installations as well as composing scores for her films. He has taught at Universities throughout the world and gives yearly master classes in Greece. He curates the annual Plushmusic festival in Cologne and Bremen. In 2013 he released the 13 Box Set "13 Views of the Heart's Cargo" and received the German SWR Jazz Prize.
www.haydenchisholm.net, www.softspeakers.com
Thimios Atzakas was born in 1971 in Thessaloniki. He studied classical guitar with Costas Cotsiolis, Hubert Käppel and Carlo Marchione. He also studied Oud and modal music by Ziad Radjab, Behnam Manadjedi and Ross Daly. He is a graduate of the New Conservatory of Thessaloniki, the Music College of Cologne and the Leipzig University of Music and Theater. In 2013, he finished his doctoral thesis on the topic "People oft he Wood – The art of Oud from the outskirts of eastern music world to the contemporary Greek urban culture" at the University of the Aegean. From 1998 to 2004 he lived in Berlin. Over the last 10 years, his artistic focus has been on playing and exploring the Oud and modal Middle Eastern musical traditions, as well as composition and improvisation. He is also active as an interpreter of classical and  contemporary music. He founded several ensembles, including the Armos Ensemble, the Tropos Quartet Berlin, and the Ensemble ΣΩΜΑ together with Antonis Anissegos. Since 2010 he is a member of the ensemble Ex Silentio, which specializes in music of the Middle Ages and the Renaissance. Since 2005, he has taught oud and ensembles in traditional Greek music at the Department of Music and Science of the University of Macedonia. Since 2006 he is organizer and artistic director of the international summer course "Music Village" (www.music-village.gr), which has been held annually for 2 weeks in Agios Lavrentios, Pilio.