Solos and Mixtures, Incense of Music 39-41
A multisensorial festival from 10th to 12th of October
We have the big pleasure to announce a very special music and incense festival happening from 10th to 12th October (Thursday to Saturday) at Pandatheater in Berlin Prenzlauer Berg. In three evenings we will experience twelve great artists from all around the world  playing mostly solo concerts of various nature and style.  We will listen to European  and Arabic classical, to jazz, experimental and free improvised music. Additionally we will burn incense mixtures specially conceived for the occasion. Each mixture will contain eight different fragrances.  A multisensorial challenge of highest ambition. For guests who are particularly sensitive to smoke, this event is not recommended.
Incense of Music Nr. 39
 Thursday, 10th October 2019, 8 p.m.
FIRST SET
Dina Bolshakova, cello – Bakr Khleifi, oud
orange, styrax, amber, myrrh, opoponax, sandalwood, juniper, anis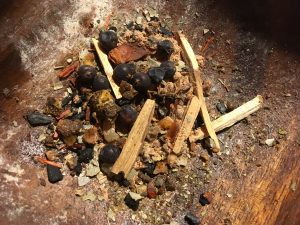 SECOND SET
Daniel Schroeteler, drums – Mevan Younes, bouzuki
frankincense, thymus, cardamom, damiana, mastix, labdanum, laurel, cedar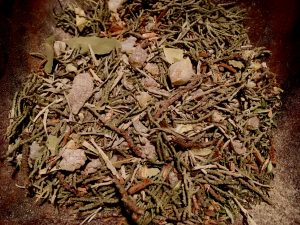 Incense of Music Nr. 40
Friday, 11th October 2019, 8 p.m.
FIRST SET
Valentina Bellanova, flute and recorder – Olaf Rupp, guitar
white sage, cedar, yerba santa, juniper, frankincense, tonka, sweet grass, palo santo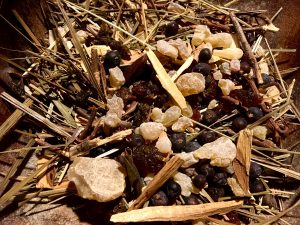 SECOND SET
Valentina Bellanova, flute and recorder – Elena Kakaliagou, french horn and voice – Olaf Rupp, guitar – Daniel Schroeteler, drums
sandarak, frankincense, rosemary, lemon, lavander, myrtus, galbanum, laurel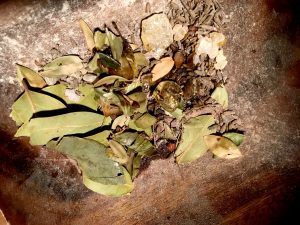 Incense of Music Nr. 41
Saturday, 12th October 2019, 8 p.m.
FIRST SET
TRIO: Hayden Chisholm, sax . Chris Dahlgren, double bass . Daniel Schroeteler, drums
elemi, aralia racemosa, juniper, copal, dragon's blood, dammar, guajak, muira pama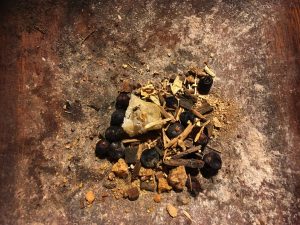 SECOND SET
 Gareth Lubbe, viola and overtone singing – Ziad Rajab, oud and voice
frankincense, myrrh, oud, calmus, cedar, ysop, cypress, grapefruit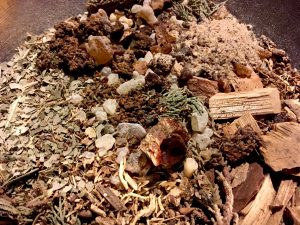 PANDA Theater in der Kulturbrauerei, Knaackstr. 97, 10435 Berlin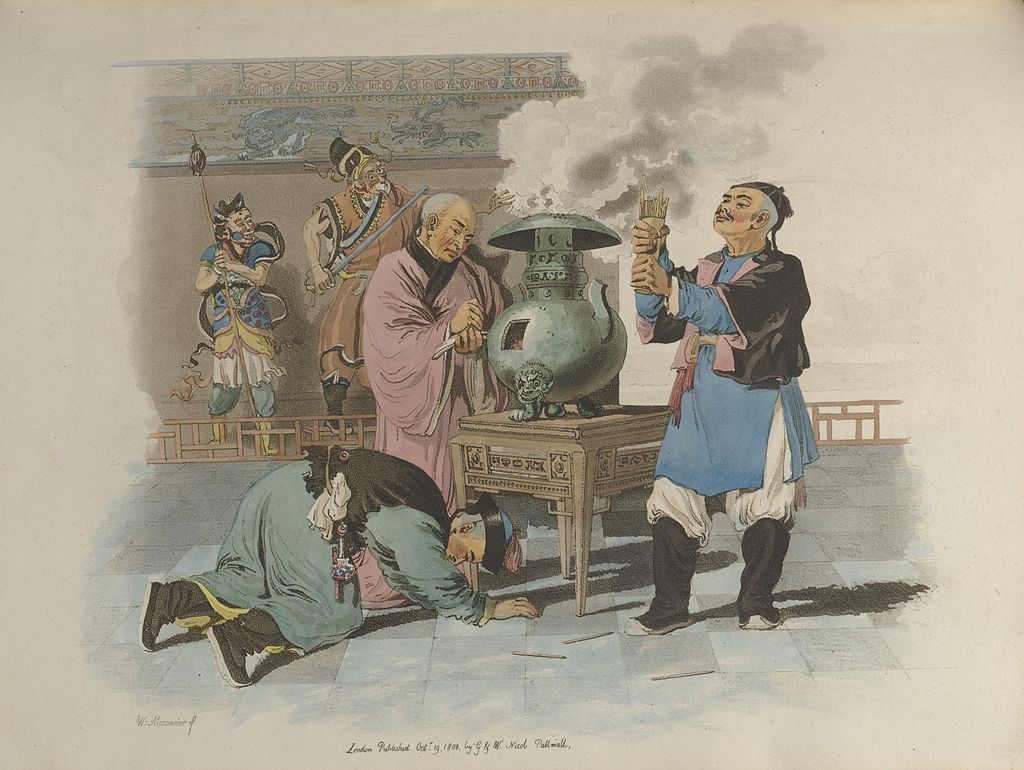 Participating artists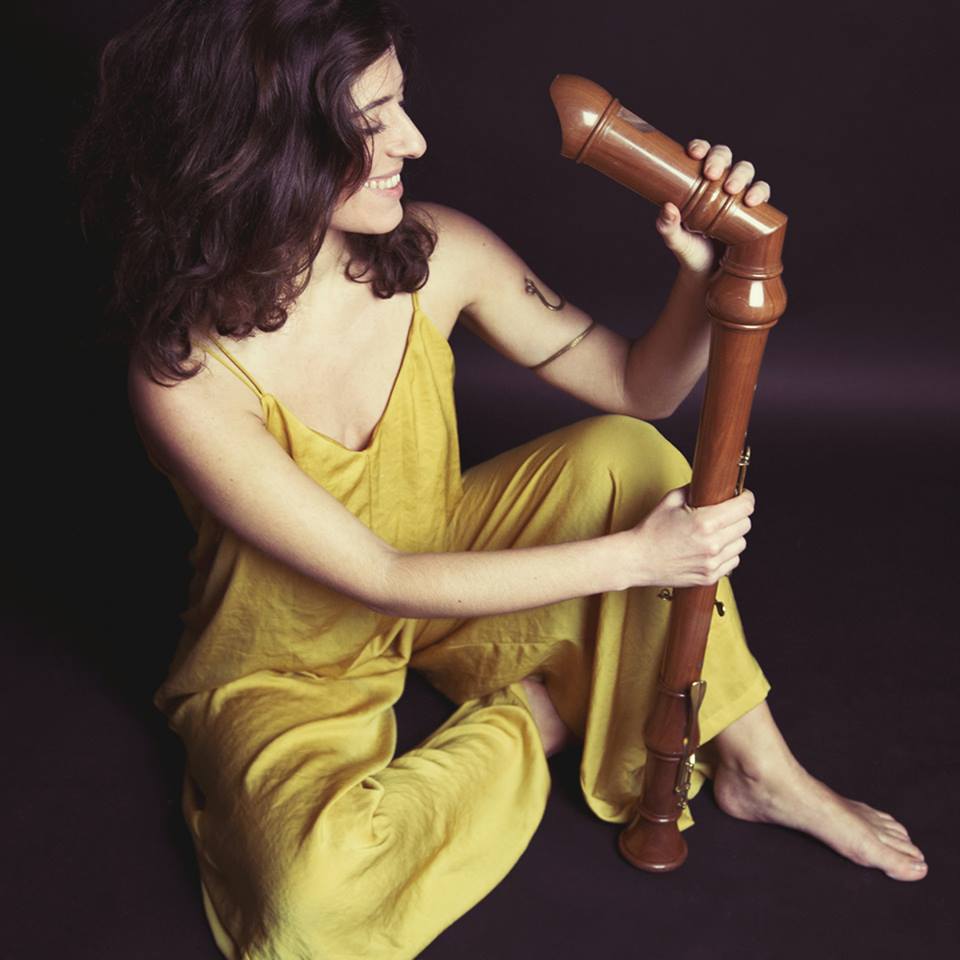 Valentina Bellanova. I was born in Florence, where I later studied musicology and recorder. I then furthered my instrumental studies in Germany at the University of Music, Drama and Media in Hanover, where I obtained my Soloist's Diploma. I moved to Berlin at the beginning of 2014. I have been very involved with classical Turkish and Arab music for several years now, also studying their respective aesthetics and theories. I play both the Turkish and the Arabic Ney and regularly perform these instruments in various music and theatre projects (for example as soloist in the National Theatre Thuringia, in the NDR Radio Station in Hanover, in the Kulturforum in Frankfurt (Oder), in the Komische Oper Berlin, in HAU Theater Berlin, in Stadtsorchester Braunschweig, in Kampnagel Hamburg etc.) My teachers of Ney and modal music include Ross Daly, Dr. Claudia Ott, Ömer Erdogdular, Kudsi Erguner, whereas I studied the recorder and Early Music with David Bellugi, Federico Maria Sardelli and Ulrich Thieme. In addition to working as a freelance musician, I teach Ney at the Global Music Academy Berlin and at the BTMK (Berlin Conservatoire of Turkish Music) and Recorder at SOS Berlin. I am also involved in research and publishing. For instance, I issued the first edition of Concertos for Recorder by the Neapolitan composer Nicola Fiorenza (published by Girolamo).
from: www.valentinabellanova.com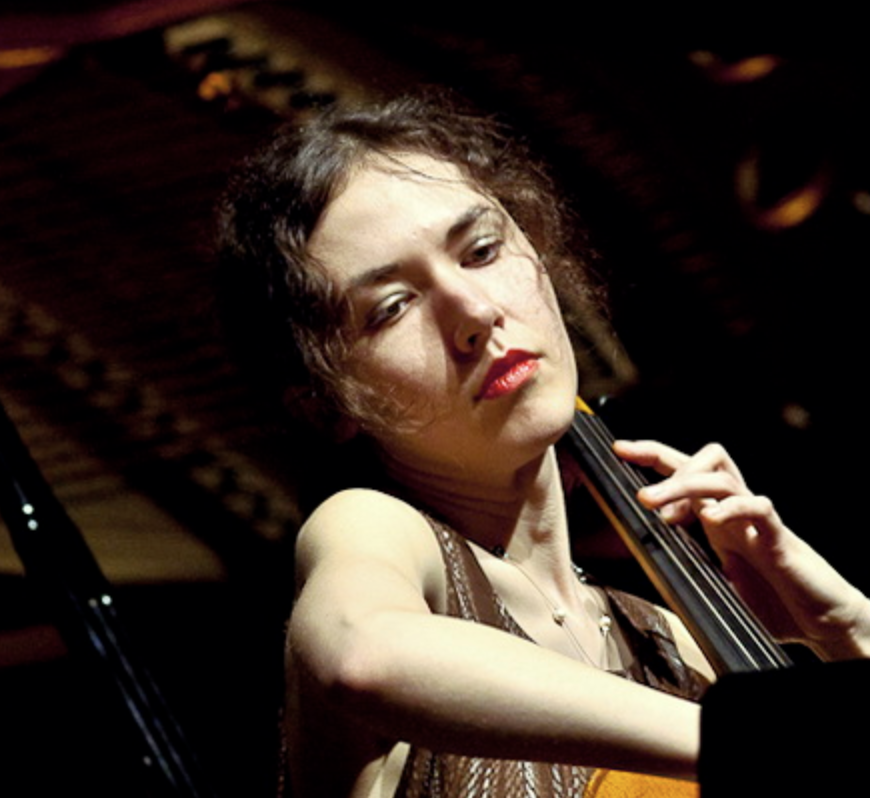 Dina Bolshakova was born in Tomsk, Russia. In 1992 she received her first violoncello lessons at a music school, from 2001 to 2005 she studied at the St. Petersburg Music College. Dina continued her education at the UdK Berlin, first with Prof. Catalin Ilea and since 2008 with Prof. Konstantin Heidrich. In February 2014 she finished her concert exam with honors. She attended masterclasses with Frank Helmerson, Wolfgang Boettcher, David Geringas, Ivan Monighetti, Ralph Kirschbaum, Jens-Peter Maintz and Bernard Greenhouse; participated in various music festivals, eg. B. HARMOS Festival in Porto (2010) and Encuentro Santander (2011), IMS Prussia Cove (2013), ISA 2014, Lucerne Festival Academy (2016) and played chamber music u. a. with Zakhar Bron, Ingolf Turban, Wilfried Strehle, Radovan Vlatkovic, Claudio Martinez Mehner. As a soloist as well as a chamber musician, the cellist has repeatedly won prizes in national and international competitions. a. 3rd Prize at the Domenico-Gabrielli Violoncello Competition in Berlin (2007), Special Prize at the International Bucchi Competition (2011, Rome). She played as a soloist, among others, the cello concerto by A. Dvorak with the Baden-Baden Philharmonic and the Samara Philharmonic, Emil Hartmann's Cello Concerto with Havel Symphoniker (December 2014, Berlin). During her studies Dina was a scholarship holder of the Paul-Hindemith Society, the Foundation Villa Musica Rheinland-Pfalz and the Ottilie-Selbach-Redslob-Foundation. In 2012/13 the cellist had a temporary contract as deputy principal cellist with the Tampere Philharmonic Orchestra.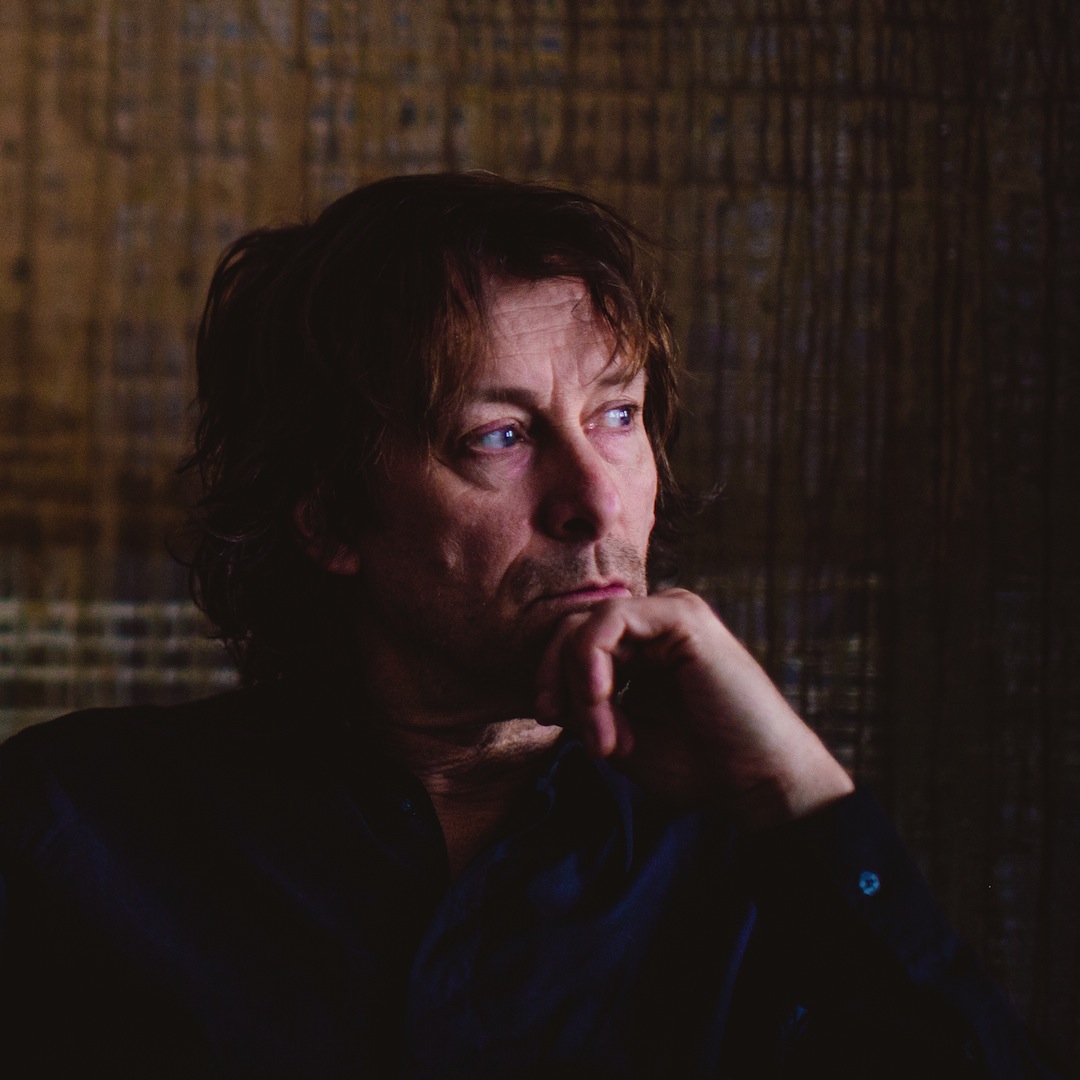 Chris Dahlgren
was born in New York, NY on Nov. 13, 1961. He began with music on the cello at the age of 6, and later switched to the bass. His earliest experiments with improvisation on the cello brought upon him the wrath of his elementary school music teacher who shouted, "Get out of here Dahlgren- you will never be a musician!" He received his BM in Jazz Studies from the Cincinnati Conservatory of Music (1986) and a MA in Composition/ Experimental Music from Wesleyan University (2003). Chris has studied composition with La Monte Young, Anthony Braxton, Alvin Lucier and Christian Wolff. He has studied bass with Barry Green, Francois Rabbath and Dave Holland, among others. During the mid-1980's, as the in-house bassist of the Blue Wisp Jazz Club in Cincinnati, Ohio, Chris had the opportunity to learn about jazz music directly from some of the greatest American masters, such as: Herb Ellis, Red Rodney, John von Ohlen, Art Lande, Charles Tolliver and Joe Lovano. In this time he also established himself as a composer and unique voice on the bass, co-founding the band Ekimi and the music label Krysdahlark making several recordings, thereupon. In 1993, Chris moved back to his native New York, and for eleven years was actively performing and recording with his own (Slow Commotion, Best Intentions) and other's bands on the Downtown scene. In this period he released many of his own recordings, as a composer and improviser, on the Koch Jazz, CIMP, Not Two, Between-the-Lines, Leo, ESP and other record labels, in addition to performing on numerous recordings by other artists. From 2001 to 2009 he was a regular member of ensembles of the seminal avant-garde composer and woodwinds player Anthony Braxton. Since 2004, he has been living in Berlin, Germany, performing, composing and collaborating with significant European musicians, composers and artists. In 2006 Chris began to play the viola da gamba, and is presently introducing this instrument into the field of improvised music. In 2008, he formed his new band: LEXICON, which had its debut recording come out on the Jazzwerkstatt label in March, 2010. Chris regularly tours around the world with his own, as well as other ensembles. Since 2003, Chris teaches and coaches ensembles in Berlin at the Musikhochschule Hanns Eisler and Jazz Institut Berlin. He has received numerous grants and awards in music composition from the National Endowment for the Arts, Ohio Arts Council and Headlands Arts Center (USA), as well as receiving commissions for his compositions from private individuals and organizations.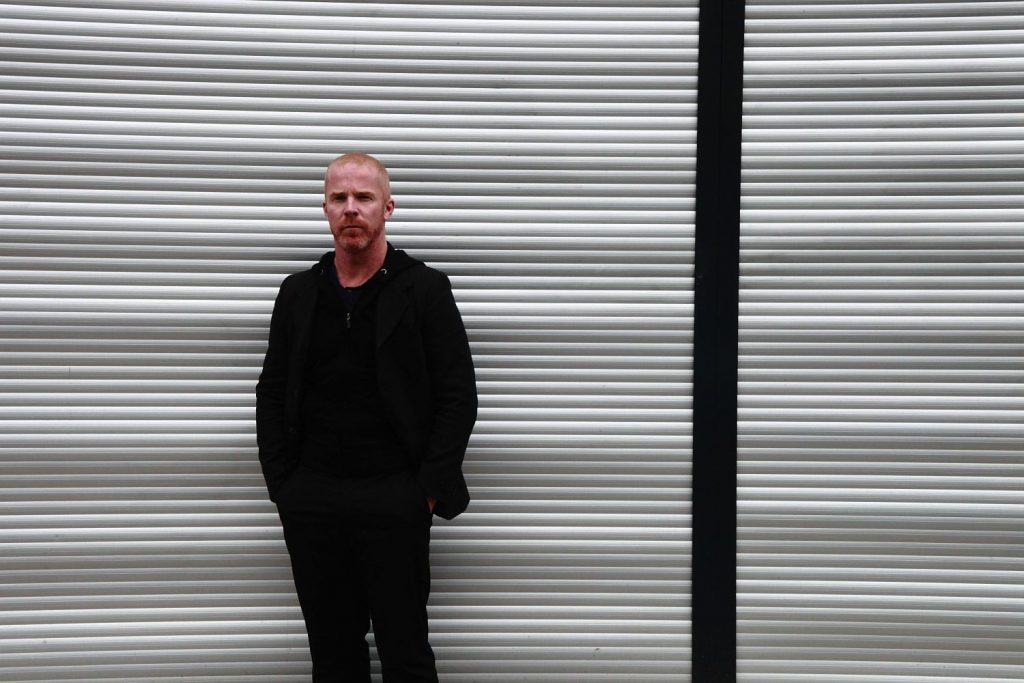 Hayden Chisholm was raised in New Plymouth, New Zealand, by parents Heather and Doug Chisholm. His first musical experiences came with local Dixieland bands. He began playing clarinet at age nine before switching to what became his primary instrument, the alto saxophone, two years later. The early influences of Johnny Hodges, Sun Ra, Eric Dolphy were strong, being his first jazz records. He was a member of the award-winning New Plymouth Boys' High School Jazz band and won the prize for Most Outstanding Jazz Musician at the National Jazz Festival in Tauranga, 1991. With a DAAD scholarship Chisholm attended the Musik Hochschule in Cologne, Germany. He studied saxophone with Frank Gratkowski. In 1997 he received the New Zealand Young Achievers Award which enabled him to continue his studies abroad. During these years he also studied Carnatic music in Chennai and travelled extensively in the Balkans learning the different musical traditions. During his studies in Cologne Chisholm developed a system of micro-tonal fingerings for saxophone and so called "split-scales" which he presented on his 1996 debut solo CD Circe on Jazzhaus Musik. These scales split perfect intervals using quarter tones. His microtonal work was later featured on the Root70 album Root70 on 52nd 1/4 Street which received the German Critics Award. During his studies in Cologne he met many musicians he still collaborates with today including Marcus Schmickler, Nils Wogram, John Taylor, Felix Fan, Adrian Brendel, Burnt Friedman, Jochen Rückert, Burnt Friedman, Antonis Anissegos, Jaki Liebezeit, Claudio Bohorquez. He also worked under Mauricio Kagel who was then professor for composition. Hayden Chisholm, Moers Festival 2007 Since 2000 he has collaborated with the German artist Rebecca Horn. His work with her is wide-ranging, from composing the music for major site-specific installations "Moonmirror" (Mallorca, 2003), "Lumiere en Prison" (Paris, 2002), Spiriti de Madre Perla" (Naples, 2002), "Twilight Transit" (NYC 2004), Heart Shadows (Lisbon, 2005), "Das Universum in einer Perle" (Berlin, 2006), to recomposing the music for her early performance films which was released on a complete DVD set in 2005. In 2008 he worked as assistant director with Horn for the Salvatore Sciarrino Opera Luci mie traditrici at the Salzburger Festspiele. In 2009 he composed the music for her film Fata Morgana which was premiered at the Teatro La Fenice Opera House during the Venice Biannale. In 2011 he composed the music for her documentary film "Moonmirror Journey" which premiered in Berlin. In 2001 he composed music for the German Theater (Deutsches Schauspielhaus) in Hamburg, working on Maria Stuart by Schiller and Arabische Nacht by Schimmelpfennig. In 2006 and 2007 he was musical director of the Earth Festival in Kenya which featured a large cast of international musicians, including Huun Huur Tu. In 2008 he performed with David Sylvian on the "World is Everything" tour. Since 2006 he teaches a yearly masterclass on Mount Pilion in Greece in the village of Agios Lavrentios. His course "The G-string of Pythagoras" fuses saxophone, just intonation, ancient music theory, and improvisation. In 2008 he was assistant director at the Salzburg Festspiele of the Opera "Luci Mie Traditrici" by Salvatore Sciarrino. In 2012 Chisholm was featured in the feature documentary Sound of Heimat – Deutschland singt directed by Arne Birkenstock and Jan Tengeler. In the film, Chisholm travels through Germany and explores authentic forms of German folk music. In 2013 he released a 13-CD Box set 13 Views of the Heart's Cargo which presents his most important recordings dating back to 2001. The first CD in this box, Love in Numbers, features works for saxophone in which Chisholm explores the Fibonacci series as it manifests in the overtone series. In 2015 Hayden Chisholm contributed to Waywords and Meansigns, a collaborative project setting James Joyce's Finnegans Wake to music. Hayden is a member of the quartet Root 70 with trombonist Nils Wogram. In 2018 Chisholm was a finalist at the New Zealand Jazz Awards in the Recorded Music NZ Best Jazz Artist category.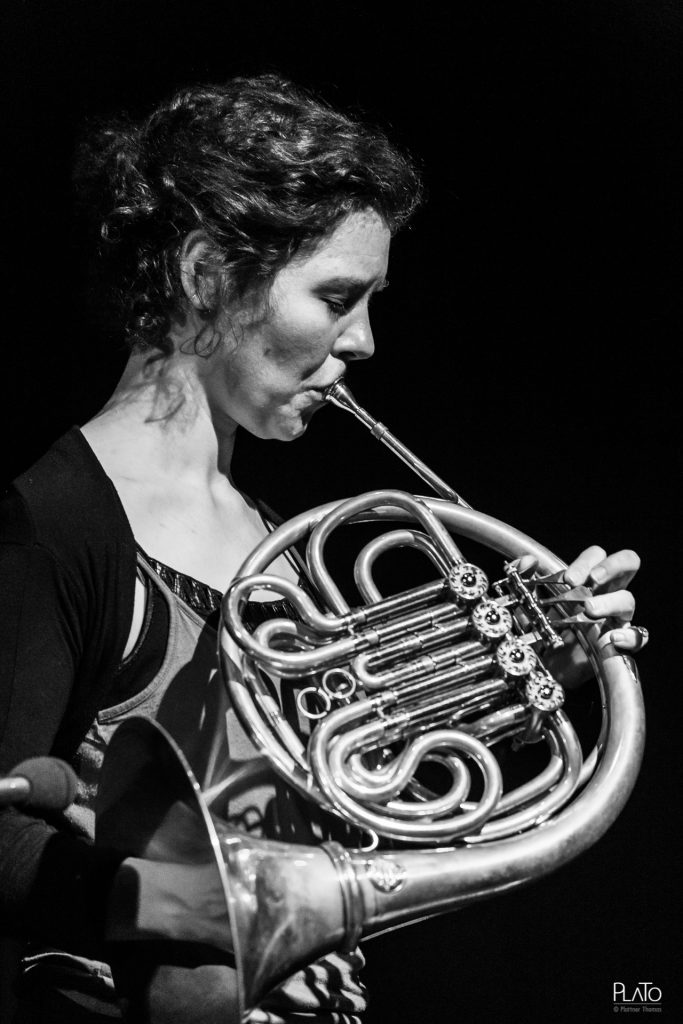 Photo by Thomas PlattnerElena Margarita Kakaliagou is a greek-austrian french horn player and performer, currently based in Berlin. Starting out with piano lessons, she moved on to the French horn at the age of 18. After completing her studies in Athens/GR with Vangelis Skouras, she moved on to KUG-Graz/AT to continue her education under the teaching of Hector McDonald. Instructed by Erja Joukamo-Ampuja, Elena obtained her Master's degree from Sibelius Academy/FI in 2010 in French horn and chamber music. During her career, Elena has received scholarships from Klangforum, Impuls Academy and Ensemble Modern with teachers like Mike Svoboda and Bill Formann.
Elena's field of specialization is free improvised and contemporary music, next to classic chamber music. She has performed premiers with ensembles like Ensemble Linea, Schallfeld and KNM Berlin in Festivals like Ultraschall Berlin/DE, Maerz Music/DE, Randspiele/DE, Musica Nova/FI, Lá-bas/FI, Musica/FR, Warsaw Autumn/PL, New Adits/AT, Ultima/NY, Kaleidophon/AT, newadits/AT, Tour de Babel/FR, Sound Live Tokyo/JA ao. She has worked with individual artists as Riikka Innanen, Phill Niblock, James Andean, Ingrid Schmoliner, Katharina Klement, CC Hennix, Robin Hayward, Simon Martin, Matias Guerra, Thomas Noll, to name but a few. Elena is the co-founder of the Helsinki-based 'Rank Ensemble', the Austrian trio 'PARA', the Duo Kakaliagou/Schmoliner, the Duo Guerra/Kakaliagou and is a member of Zinc & Copper, Zeitkratzer and the ensemble of CC Hennix.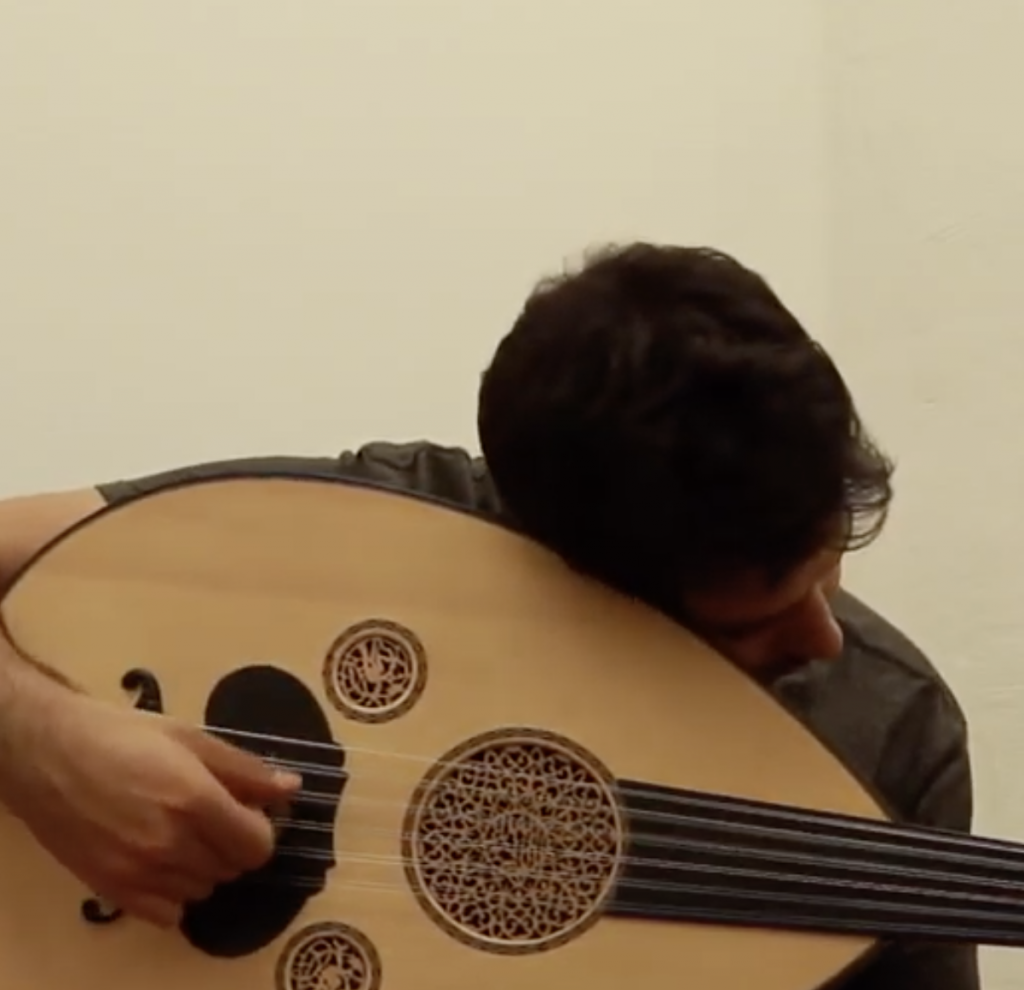 Bakr Khleifi studied Oud with Prof Ahmad El Khatib in Sweden. He studied double bass with Nabil Shehata, first double bass player of the Berlin Philharmonic Orchestra. Bakr Khleifi graduated from the University of Gothenburg in 2012. At the early age of twelve he was already invited to perform with the West-Eastern Divan Orchestra founded by Edward Said and Daniel Barenboim. He became member of the orchestra in 2008. He presented his first Solo Oud Concert at the University of Gothenburg in May 2012.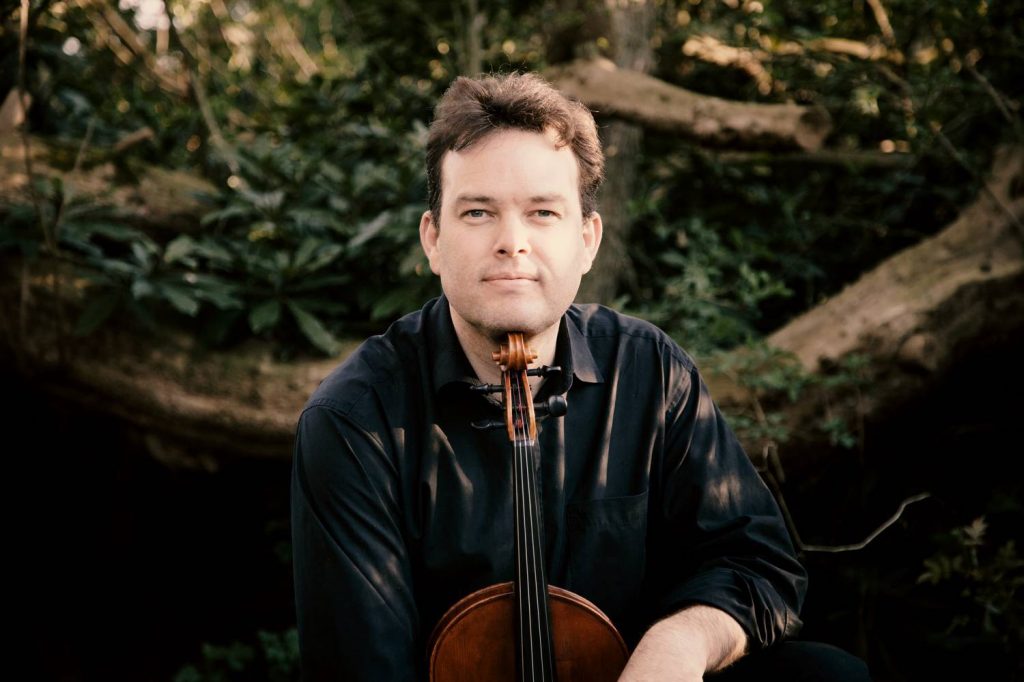 The South African featherless biped, Gareth Lubbe, is professor of viola at the Folkwang University of the Arts in Essen, Germany. For several years, he was principal violist in the Gewandhaus Orchestra of Leipzig under Riccardo Chailly, while teaching at the Felix Mendelssohn-Bartholdy Conservatory. Gareth appears as a soloist and chamber musician throughout Europe, America, Africa and Asia. As an overtone singer he performs and gives interactive lectures around the world, interpreting the phenomenon of multiphonic singing to demonstrate the possibilities of sound production on one's own inner instrument. He has recorded for various labels and radio stations and his Tibeten throat singing voice also represents the dark side in the PC game "Demonworld".  Gareth received his first musical education on piano and violin at the age of four, and made youthful debuts as soloist and conductor. In 1994 he performed at the presidential inauguration of Nelson Mandela in Pretoria. After finishing school, he went to study in Germany but continues to nurture his love for the mother continent, performing and teaching there on a regular basis. In 2019 he was appointed as International Cultural Ambassador for the Denis Goldberg House of Hope in Cape Town, promoting social cohesion and interdisciplinary arts between all the many cultures of Southern Africa.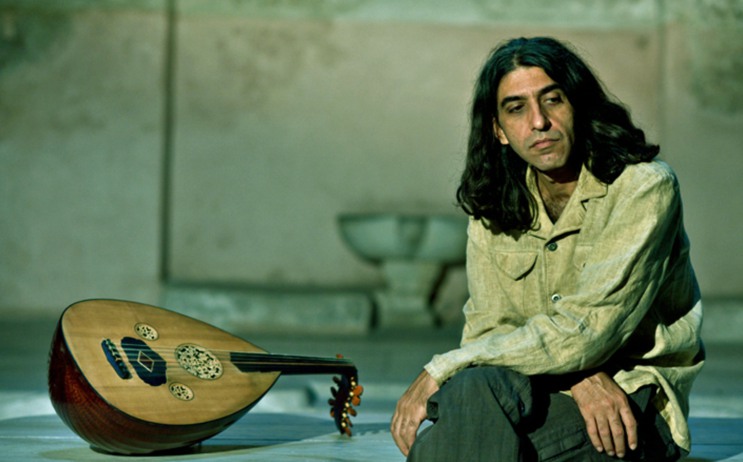 Ziad Rajab was born in Aleppo, Syria, to a Syrian mother and a Palestinian father. Both his mother and his grandmother played the oud and it was from them that he received his first lessons. Later he studied under Bahjat Durmosh and the great Arab music theorist (maqam) Rashid al Sufi. He made his professional debut in 1983, playing with Sabab al arube, a group affiliated to the Aleppo Fine Arts Association, and went on to play the oud with other musicians and singers from Aleppo at various Syrian festivals. Since 1988 he has made his home in Greece, in Thessaloniki, pursuing his own lines of musical inquiry, taking part in concerts, and playing at: WOMAD (2002) The Samothraki World Music Festival (2005), The International Oud Meeting organised by En Chordais, Thessaloniki (2002), The Agios Lavrentios Music Village, Pilio (2008), The Thessaloniki State Conservatory (1997), The Thessaloniki Concert Hall (2016), The Athens Concert Hall (2008, 2017). He has also played abroad: Helsinki Festival in Finland (1993), Belgrade Guitar Art Festival in Serbia (2005), Italy – Scala di Pescara (2007), Italy – Errichetta Festival (2015), Germany – Moers Festival (2015), Austria- Jazz and the City (2015), Serbia- Belgrade State Radiotelevision (2017), 1989-1990: "Labyrinth" (Conductor: Ross Daly). In 1993 Ziad composed music for a production of Albert Camus' The Plague by the Finnish Broadcasting Company (YLE), which was later also presented by the Swedish Broadcasting Company (SR). He has collaborated with many musicians and singers, including Ross Daly, Yorgos Dalaras, Glykeria, Vassilis Soukas, Haig Yazdjian, Loudovikos ton Anoyion, Sokratis Malamas, and Eleni Tsaligopoulou. In 2000 he brought out a CD titled Mawjet Tarab. Between 2017 and 2018 he has worked as a Music Educator and Instructor for Music Instrument Making with refugees under ARSIS NGO. Ziad has given seminars at the Aristotle University of Thessaloniki and the Agios Lavrentios Music Village on Pilio and master classes for the En Chordais cultural organisation. He also offers oud lessons at beginners and advanced level oud players. In 2014, he gave a lecture at the University of Vienna on the Arabic theoretical music system (maqam). Ziad has been making and repairing ouds since 1994 and has made dozens to date in his own workshop. Using the finest wood and with the quality of the sound as his main priority, he is always looking for new construction methods and approaches in a constant quest for aesthetic and acoustic perfection.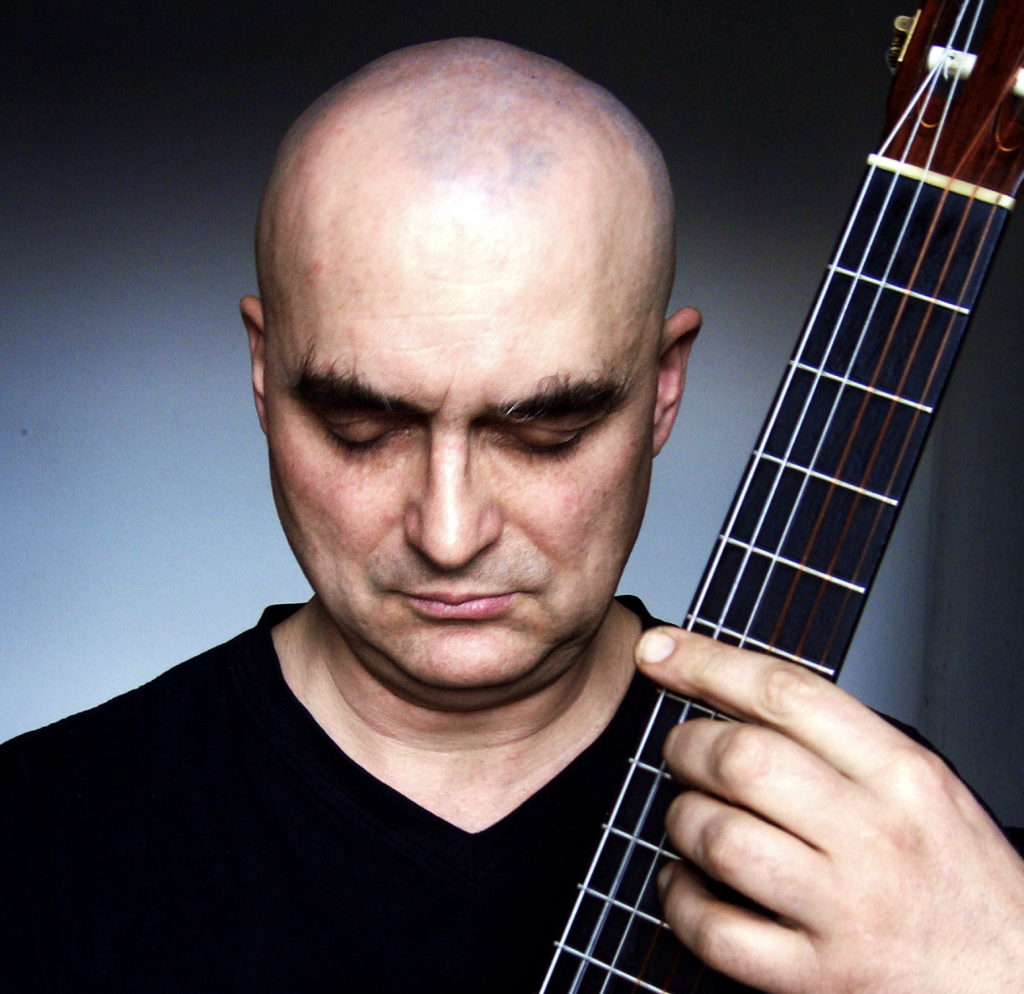 Olaf Rupp (*1963) plays Improvised Music on the acoustic and electric guitar. The organic flow of his music is guided neither by chance nor by dominant, willful decisions. To him the same level of focus and attentive energy should be present in loud and fast music as well as in softer, more subdued kind of playing. In all his music he explores how motion-clusters can be perceived as one agglomerated sound in motion. This means that every note is a dot in a higher matrix and its color is more important than the position of that note in any hierarchic classification system. So a sequence of notes creates a moving sound, not a melody. And the intrinsic color of every note is more important than the melodic or harmonic burden which the listener may or may not put on it. Besides many cooperations five solo albums are published so far on the labels FMP, RELATIVE PITCH, GROB and GLIGG. Olaf Rupp has been touring in many countries and performed with extraordinary musicians such as Paul Lovens, Tristan Honsinger, Peter Brötzmann, Butch Morris, Lol Coxhill, John Zorn und Tony Buck. He is an outstanding solo performer both on electric and acoustic guitar. Important groups are among others XENOFOX, his duo with Rudi Fischerlehner, a Duo with cello player Ulrike Brand, and WEIRD WEAPONS with Tony Buck and Joe Williamson.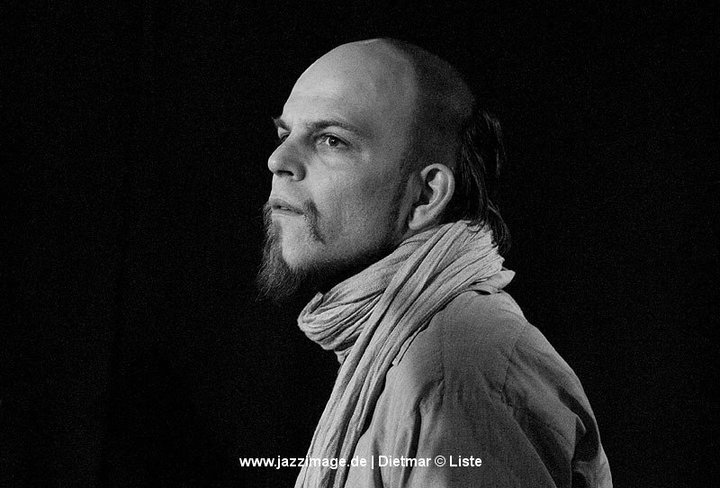 Daniel Schröteler (born August 17, 1974 in Düren) is a German jazz drummer. Schröteler, who was given a first drum at the age of five, studied jazz at the Hogeschool voor de Kunsten (Arnhem University of Arts) from 1990 to 1997. From 2000 he taught drums and rhythm at the Johannes Gutenberg University in Mainz, from 2002 to 2003 he also taught in Arnhem. Since 2003 he works as a freelance musician. Schröteler is a member of various bands, such as the Christian-Weidner-Trio, the Henning-Berg-Quartet, the Werner-Neumann-Quartet, the Matthias-Haus-Ensembles and the groups Supdiver (with Niels Klein, Frank Wingold and Dietmar Fuhr), TITZ (by Christoph Titz) and Talking Jazz (with Till Brönner, Dieter Ilg, Charlie Mariano and Martin Sasse). In addition, he also worked in a duo with Antonis Anissegos, with Hayden Chisholm's The Inflictor and with Marla Glen. With Philipp Gropper, Philip Zoubek and Petter Eldh he formed the band Tau. Since 2016 he belongs to Tobias Christl's poachers. He has appeared at jazz festivals in Germany (including the Leverkusen Jazz Festival and Moers Festival), in Maastricht, Bilbao and Benoni (South Africa) and toured the Netherlands, Spain and Africa on behalf of the Goethe-Institut.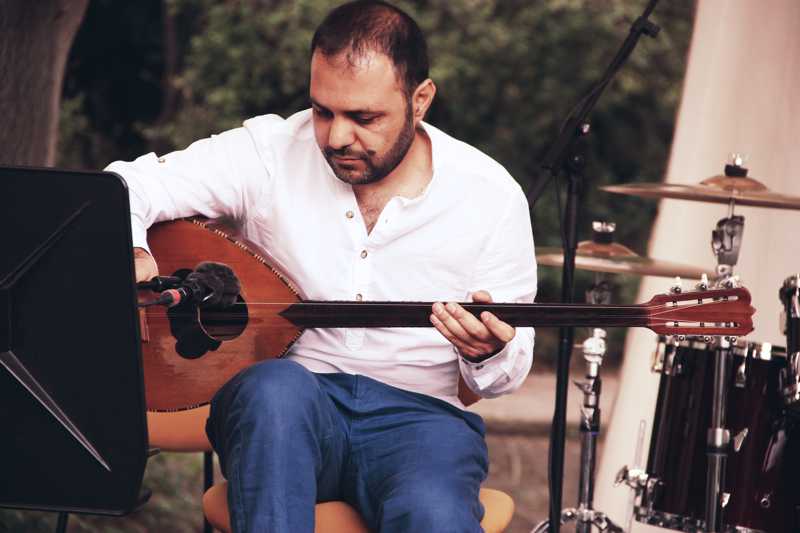 Mevan Younes (Buzuq) studied at the Conservatoire in Damascus with the Azerbaijan professor Askar Ali Akbar and specialized in Buzuq. He also attended workshops with Turkish lute player Najati Chelick, Fawaz Baker and lute players Ayman Jesry and Mehmet Bitmez. He has performed extensively in Syria and abroad and is co-founder of a music group with a focus on music traditional Syrian music. The project achieves the performance of rural and urban music traditions in Syria not only in the traditional way, but also with their own perspectives, which at the same time reflect the musicians' own abilities. After his escape Mevan is in EuropeConcert tour in Denmark with the project "Syrisk Kulturkaravane" (2015) -concert in the Berlin Philharmonic with piano and percussion accompaniment (2015) -Solo piece with accompaniment of the Youth Symphony Orchestra Bremen (2015).