Sorry, this entry is only available in German.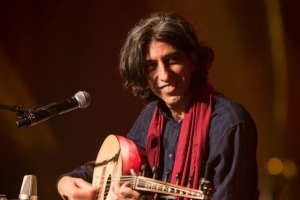 Ziad Rajab was born in Aleppo, Syria, to a Syrian mother and a Palestinian father. Both his mother and his grandmother played the oud and it was from them that he received his first lessons. Later he studied under Bahjat Durmosh and the great Arab music theorist (maqam) Rashid al Sufi. He made his professional debut in 1983, playing with Sabab al arube, a group affiliated to the Aleppo Fine Arts Association, and went on to play the oud with other musicians and singers from Aleppo at various Syrian festivals. Since 1988 he has made his home in Greece, in Thessaloniki, pursuing his own lines of musical inquiry, taking part in concerts, and playing at: WOMAD (2002) The Samothraki World Music Festival (2005), The International Oud Meeting organised by En Chordais, Thessaloniki (2002), The Agios Lavrentios Music Village, Pilio (2008), The Thessaloniki State Conservatory (1997), The Thessaloniki Concert Hall (2016), The Athens Concert Hall (2008, 2017).
He has also played abroad: Helsinki Festival in Finland (1993), Belgrade Guitar Art Festival in Serbia (2005), Italy – Scala di Pescara (2007), Italy – Errichetta Festival (2015), Germany – Moers Festival (2015), Austria- Jazz and the City (2015), Serbia- Belgrade State Radiotelevision (2017), 1989-1990: "Labyrinth" (Conductor: Ross Daly). In 1993 Ziad composed music for a production of Albert Camus' The Plague by the Finnish Broadcasting Company (YLE), which was later also presented by the Swedish Broadcasting Company (SR). He has collaborated with many musicians and singers, including Ross Daly, Yorgos Dalaras, Glykeria, Vassilis Soukas, Haig Yazdjian, Loudovikos ton Anoyion, Sokratis Malamas, and Eleni Tsaligopoulou. In 2000 he brought out a CD titled Mawjet Tarab.
Between 2017 and 2018 he has worked as a Music Educator and Instructor for Music Instrument Making with refugees under ARSIS NGO. Ziad has given seminars at the Aristotle University of Thessaloniki and the Agios Lavrentios Music Village on Pilio and master classes for the En Chordais cultural organisation. He also offers oud lessons at beginners and advanced level oud players. In 2014, he gave a lecture at the University of Vienna on the Arabic theoretical music system (maqam).
Discography: 2000: Mawjet Tarab, CD of Ziad's own compositions, produced by FM Records. 2009: Mediterranean Voices, CD on which Ziad and Giorgos Dalaras interpret 'Nawet Asibak', a traditional Syrian song. 2010: The Long Trail Of Immigration, CD of Ziad's own compositions, self production.
Ziad has been making and repairing ouds since 1994 and has made dozens to date in his own workshop. Using the finest wood and with the quality of the sound as his main priority, he is always looking for new construction methods and approaches in a constant quest for aesthetic and acoustic perfection.