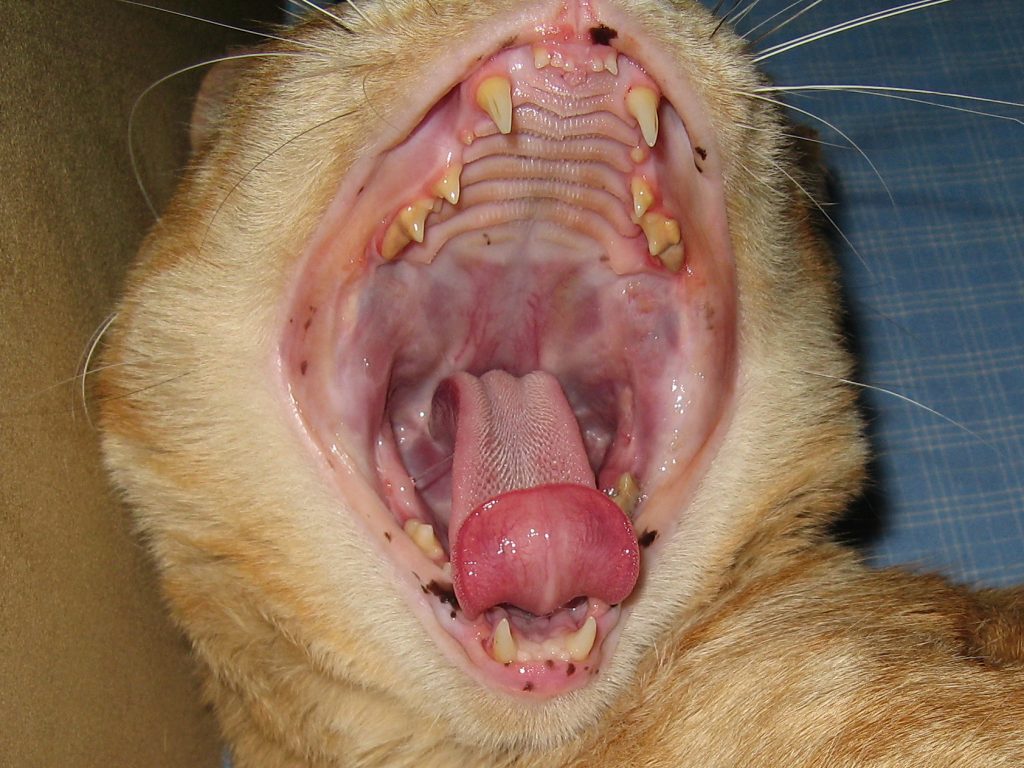 The Jacobson's organ, also known as the vomeronasal organ (VNO), is part of the olfactory system. It corresponds to the olfactory pits of fish. During human fetal growth the organ evolves and involves before birth. Whether the VNO still fulfills functions in human perception after birth is considered controversial. In the case of the cat the entrance to Jacobson's organ can be seen on the palate behind the incisors.
Das Jacobson-Organ, auch Vomeronasales Organ (VNO) genannt, ist wie die Riechschleimhaut Bestandteil des olfaktorischen Systems. Es korrespondiert evolutionsgeschichtlich den Riechgruben von Fischen. Bei Menschen entsteht das Organ zwar im Mutterleib, bildet sich aber noch vor der Geburt zurück. Bis zum achten Monat ist ein zum Organ gehöriger Nerv nachweisbar. Als ein Rudiment des VNO beim Menschen gilt der Knorpel Cartilago vomeronasalis; dieser liegt hinter dem Knochenvorsprung unten in der Mitte der Nasenöffnung, der Spina nasalis anterior.
Ob das VNO beim Menschen noch eine Funktion erfüllt, gilt als umstritten. Bei der abgebildeten Katze ist der Eingang zum Jacobson-Organ gaumenseitig hinter den Schneidezähnen zu erkennen.